1.
Marina Bay Sands
flickr/mksystem
If construction costs are a traveler's bag, then they'll delight in seeing the Marina Bay Sands, a resort that cost US$5.7 billion to build, making it the world's most expensive building when it opened in 2010. The Marina Bay Sands is an integrated resort that has it all: a luxury hotel, restaurants, an endless collection of shops, a convention center that is one of the largest in Asia, theater, an ArtScience Museum and other entertainment centers. It also has an indoor skating rink made with synthetic ice
2.
Singapore Flyer
flickr/chooyutshing
The Singapore Flyer is a giant Ferris wheel, only with benefits, that only start with the stunning views below. Cars hold up to 28 people as they circle above the city. When it opened in 2008, it was the highest Ferris wheel in the world, reaching 165 meters (541 feet) up into the Singaporean sky. With advance notice, the Flyer can accommodate disabled guests in wheelchairs. Located on Marina Bay, the Flyer's terminal has three floors of restaurants, shops and other services.
3.
Buddha Tooth Relic Temple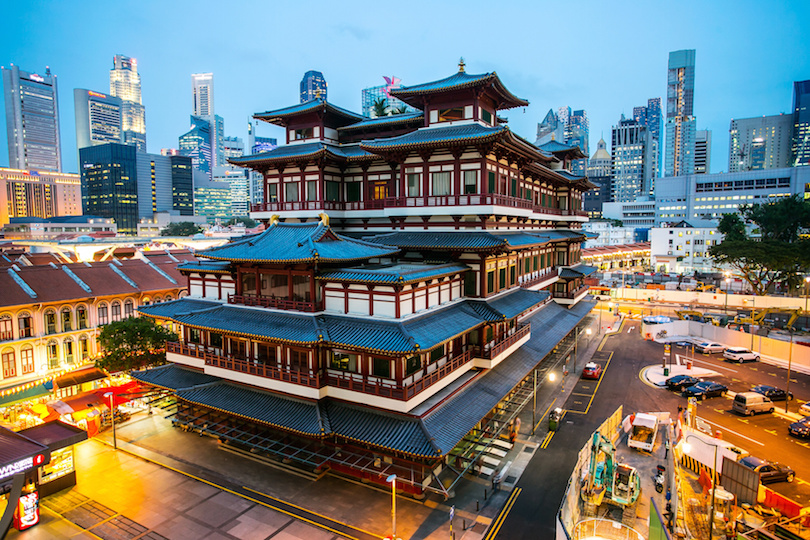 The Chinese build temples to a lot of gods and other things, but the Buddha Tooth Relic Temple is one of the more unusual. In the late 1980s when a Buddhist temple was first proposed for Singapore's Chinatown, it was supposed to become a more traditional temple. Somewhere along the line it became the Tooth Relic Temple, a home for a tooth relic from Buddha. The temple, located in central Chinatown, also features other arts and culture of Singaporean Buddhists.
4.
Night Safari
flickr/Allie_Caulfield
Travelers who enjoy nightlife but are tired of the club scene should head over to Night Safari where nocturnal, not party, animals are on display. Since it opened in 1984, it is one of Singapore's top attractions, with more than one million people annually enjoying a tram ride through seven of the world's geographic regions. Visitors also can take a trail walk to learn more about animal habits while another section features a show on the organization's work to preserve threatened species through captive breeding programs. Three restaurants features menus and entertainment that reflect life in the jungle or rainforest.
5.
Singapore Botanic Gardens
flickr/edwin.11
Travelers on a budget will appreciate the Singapore Botanic Gardens as most of the gardens are free; there is only a charge for the National Orchid Garden, the most visited section of the garden. The garden contains more than 60,000 species of plants and animals, and is home to the world's first children's garden. Past visitors rave about the tropical greenery of the gardens.